What Are Flannelette Sheets And How To Choose The Best One?
Simply put, Flannelette Sheets are soft, fuzzy sheets made from loosely woven brushed fabric. If you sleep cold, or you are seeking a rustic aesthetic, flannelette sheets may be perfect. Continue reading and we are going to answer the most commonly asked questions about flannelette sheets in this article.
What are flannelette sheets and what are they made out of?
Flannelette is a type of fabric that is crafted from loosely woven fibers with a napped surface. The napping process is where the fabric is brushed (on both sides or just one) to raise fine fibers. This is what gives flannelette its signature warmth and softness. It is often made with cotton, but they can also be made from wool, fiber blends, or synthetic fibers like polyester.
Flannelette sheets are almost always made out of brushed cotton. An open-ended cotton yarn is used and spun in a way that makes the cotton fibers to look hairy. After the sheets are woven with a thick warp and thin weft, one, or both, sides of the sheet is brushed to uniformly exaggerate the hairy fibers, creating that quintessential fuzzy flannelette feel.
Why are flannelette sheets so popular?

Flannelette sheets are perfect for that extra level of warmth and cosiness during the winter months.
Below are the features that makes flannelette sheets a must have:
Breathable - while they are warm, they are also breathable which means they will not get too hot while you sleep in them.

Durable - Flannelette sheets are very durable and long-lasting. They get softer with every wash and with proper care, will last for many years.

Wrinkle Resistant – flannel fabric does not wrinkle easily, so your sheets will always look nicely pressed.

Affordable - Flannelette Sheets are not that expensive. They cost almost similar to your regular cotton sheets. Plus they may save you some money on your heating bill in the winter if you adjust your thermostat a few degrees.

Stylish - They come in a number of colors and patterns to fit any room décor.

Great substitute for blankets – now you can stay warm without the need for lightweight blankets or extra layers that create unwanted bulk and weight.
How to Determine the Quality of Flannelette Sheets?
To determine the best quality flannelette sheets, you should look at the material and weight rather than the thread count. Look for 100 percent cotton since flannelette made from cotton-poly blends have a lighter hand and pill more quickly than all-cotton flannelette sheets. The weight of flannelette sheets will either be shown in ounces or gram-per-square-meter, or GSM.
The best flannelette sheets are made of quality 100% cotton with a fabric rating of 170 GSM (grams per square meter) or at least 5 ounces. The higher these weights are, the warmer, softer and higher quality the flannelette sheets are.
Finally, the best bed sheets are the right size for your bed and tuck perfectly for a cosy and restful night's sleep. We offer the perfect 170 GSM 100% Egyptian Cotton flannelette sheets in a wide range of bed/mattress sizes including single, king single, double, queen, mega queen, king, mega king and super king.
Do Flannelette Sheets come in different colours or patterns?
They come in a number of colours and patterns to fit any room décor or personal taste. You can get flannelette sheets in solid colors or in several patterns. The printed flannelette sheets are available in floral, tartan or plaid designs. Plaid is a very traditional pattern for flannel. You can find dark plaid patterns, light plaid patterns, or in seasonal colors.
See below examples:
SOLID FLANNELETTE SHEET IN CHARCOAL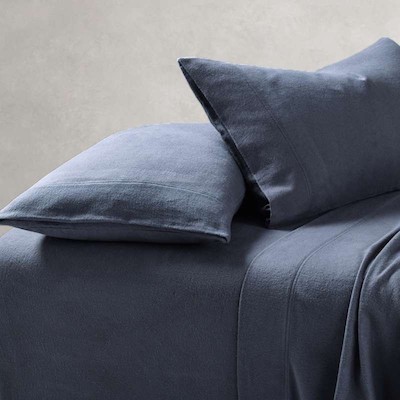 CHECKERED FLANNELETTE SHEET IN WHITE, GREY & CHARCOAL
PRINTED FLANNELETTE SHEET IN CLAY
STAG PRINTED FLANNELETTE SHEET
How do you care for flannelette sheets?
You can keep your flannelette sheets in great shape and colour if proper care instructions are followed. To preserve the softness and avoid colours from fading, follow the below care instructions:
- Wash your sheets with cold or lukewarm water with a mild detergent
- Do not use a Fabric Softner
- Dry the sheets on a low hear setting
- Do not bleach or dry clean
- Easy on the lotions